Health reasons prompted me to try their system upon a friend's recommendation. It's still early days and I'm merely going into my second week with them. I followed the diet closely and am making very positive progress with 4.7kg lost so far! After one week, I noticed that I grew in alertness and was more effective at work. No more sluggishness in the mid-afternoons!
Sandra Dee
Thank you for helping me slim down quickly within 2 months! Initially I was a little sceptical if my body will react to this kind of treatment but to my surprise, I've lost 12kg in 2 months and still dropping. I'm not someone who eat vegetables but I still managed to pull through the diet plan. My advise to anyone considering this treatment will be to go with it and follow closely to their diet plan and recommendations. You will definitely see results! If you are planning for a big day like me, start early.
Tan Ee Wen Phyllis
I have a good recommendation for Love De Beauteous at Toa Payoh Central. I had my weight loss program done with them. I lost 5kg for 1st month, and I've lost 20kg so far. They are a very nice and sincere group of people I like them very much. The package for weight loss is cheap. There's a diet to follow, but they don't control on quantity. My quantities for meals are usually hugeee but I still lost weight on a momentum. I didn't exercise. The package comes with anti-rebound program and 'warranty' but of course they have t&c. But I've met the t&c. I'm very skeptical about weight loss prgs, but I'm thankful that this worked and the price was reasonable for me.(reasonable esp bcus it worked) You can pm me for more information or find love De beauteous, just quote my name and they can give u more info on the package. Jiayou brides and everyone!
Faith C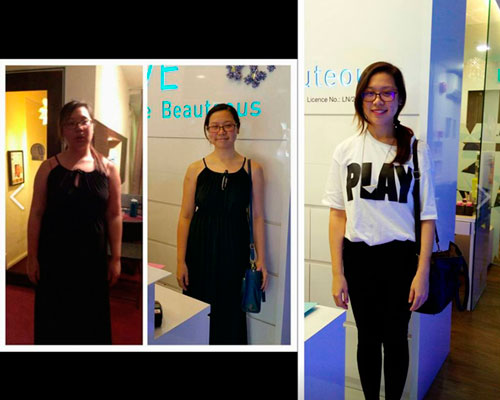 Faith C